FAQ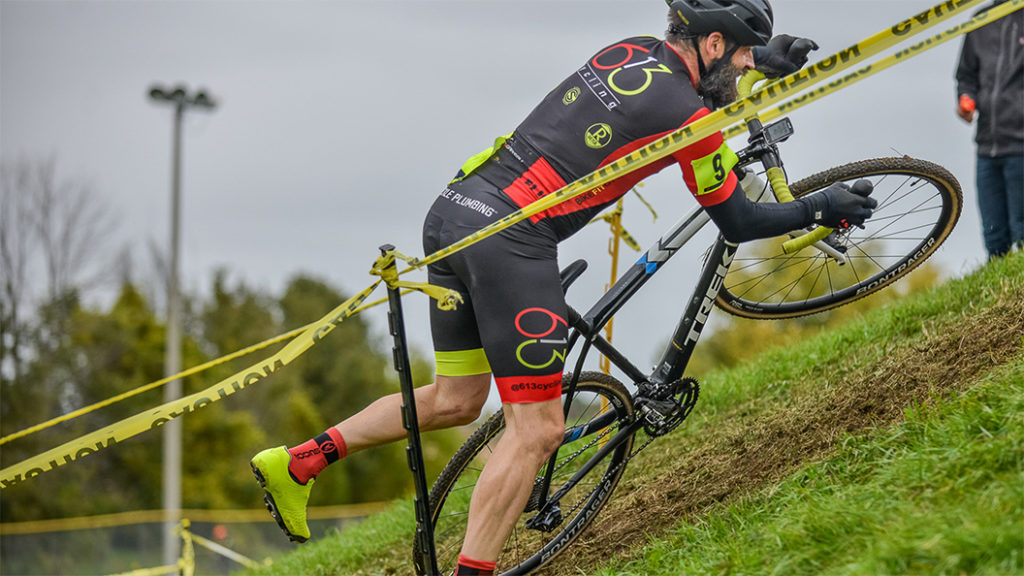 When and where are the races?
The race schedule will appear on the home page of cyclocross.org. The start times for each race are available here.
What's the race format?
Each of the races combine entrants from several race categories. Races begin with a mass start and stretch out into a circuit. This circuit is typically 3 kms long and includes grass, pavement, dirt and occasionally sand. The course is marked with flags or stakes and tape. With the flags, keep the red/pink ones on your right. Each lap you ride will be tracked by the timers and they will signal the final lap by ringing a bell at the finish line. You may not hear this bell as it is based on the leader and you may be passed by the leader in their last lap. Ride at your own pace. Please move over for faster riders if they indicate they are about to pass. There will be barriers on the course where you will have to get off your bike and carry your bike over them before remounting. You must run over the barriers, you are not allowed to bunny hop them.
How long is the race?
It varies by category, with the longest lasting one hour. What that means is that the number of laps is determined mid-race based on lap times to that point. Once the race winner has completed his/her final lap, everyone behind him/her will finish regardless of their lap count. Cyclocross races are based on the leaders, not a specific time or distance.
On race day, when should I get there?
There is no on-site, race day registration. Registration for the series or single day race must be done online through CCNbikes.com. For racers who register for the entire series, racers will only pick-up their numbers and chip once and use them for the complete season. After that, riders simply have to show up for the start of their races. For racers who register for a single day race, number and chip pick-up is only available the morning of the race.
Riders must show a valid UCI licence or Ontario Provincial License in order to obtain their numbers. The only exception is single day racers who purchased a single day permit through CCN.
Is there a chance to pre-ride the course?
Yes, there is time available before every race to get a lap or two in. Please note that warming up on the course is only permitted when other races are fully completed.
Standards of behaviour
Profanity or physical aggression towards other riders, volunteers, spectators or organizers will not be tolerated. Any riders being lapped should move over and yield ride of way to the passing rider.
What happens if I can't finish the race?
You must go to the finish line and tell the time keepers that you are quitting. This will help them with compiling the results and will make them aware of any issues that occurred during the race. Please do not approach the finish line with your bike and chip as it will result in a rogue reading on the timing system.
Do I need to ride a cross bike to race?
No, you don't. There are often people riding mountain bikes in the series. Single speeds are allowed with working hand brakes, however fixed gear bikes are not permitted. Also, there is no tire size restriction for this race series. Whatever bike you choose, ensure it is in good working condition and you must wear an approved helmet to race or warm up.
Where can I leave spare wheels or spare bikes?
We will mark a pit area with a sign each week. Do not leave them near the finish line as it can create issues with the timing system. If you have a mechanical problem, you cannot go backwards on the course to retrieve spares. You must complete the lap in the race direction, even if that means running the entire distance or riding on a flat tire.
What's this 'Madison' thing all about?
The Madison is a fun two-person relay race. We ask that a faster rider team up with a slower rider with the intention of balancing the field. It's supposed to be fun, so don't sandbag. You must have a partner in advance. Teams can be of any combination and we often have parent/child, spouses, friends, young/older riders, experienced rider with a newbie. You can either find your own partner or let us know that you are looking for a partner and we will find one.
Is the kids' course different than the adult course?
Yes, the kids' course is a shorter version of the adult race. It is set-up following the first race and kids can pre-ride it before their race. They also use shorter barriers.
Can I change races mid way through the season?
No, changes in categories will not be permitted.
Can I stay all day to spectate?
Sure! Also anyone who would like to volunteer all day can email easternontariocyclocross@gmail.com.